Welcome to PaulWertico.com!
Clinic Topics:
All or most the following topics will be discussed and demonstrated by Paul in an order that fits each individual clinic situation. Please feel free to ask questions about any of the topics that are of particular interest to you.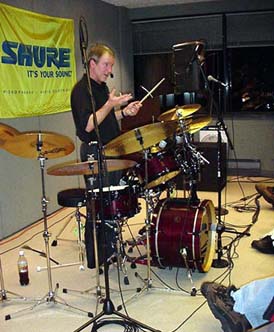 Basic Technique:
Getting Your Hands Together
matched grip vs. traditional grip
placement of hands on sticks
the fulcrum & finger placement
shoulder relaxation & elbow placement
the Free Stroke
the Moeller Method
the circle of gravity & using the correct height hand position
using gravity & a follow-through
tight grip vs. loose grip
up & down stroke vs. side to side stroke
playing into the drum & off the drum
velocity = volume, pitch & energy
be aware of articulation at different dynamic levels
listening to your sound, not just imagining it
listening for evenness in strokes
even bounces vs. uneven bounces
catching the bounce
playing on pillows, etc.
placement of sticks on drum head and when to move them around
using overtones
using dead strokes
unique strokes
stickings within stickings
strengthening and stretching exercises
(Getting your feet together)
your drum seat height
your pedals' tension
BD techniques:
heel down vs. heel up vs. full leg vs. rocking motion vs. side to side
combining heel up and heel down
HH techniques:
heel down vs. rocking motion vs. bouncing motion vs. side to side
strengthening and stretching exercises
Time:
playing from the inside out
internalizing your pulse
using a metronome
imagining an invisable grid
building off the quarter note
subdividing
feeling the space between notes
visualizing up for upbeats and down for down beats
giving full value to all strokes, big and small
giving full value to all rests, big and small
skeletal rhythms
thinking slow when playing fast & vice versa
feeling centered
staying inside yourself & not getting too scattered
the importance of breathing correctly
holding your own & not getting distracted
building up momentum
limb coordination and how the time is effected
limb fighting limb
dynamics & evenness
elastic vs. solid vs. click track vs. sequencers
distance & accuracy
playing with good players
playing with the bass, the melody, the soloist
time vs. feel
Feel:
consistency of sound
basic volume & accents
where you hit the drum head, etc.
placement of beat
posture
playing from the bottom up & vice versa
little adjustments can make a big difference
how coordination can effect feel
relaxed vs. tense - tight vs. loose
keeping it vital
staying inside the music
staying just under your capabilities
tension & release
4 feel vs. 2 feel
circular motion vs. up & down
the right dance for the right groove
Playing Fills:
the purpose for the fill
making it fit
keeping in the style
keeping a flow
starting and finishing a phrase
staying in the moment
not getting ahead of yourself
making the fill part of the groove
keeping the backbeat in focus
not rushing the previous beats
keeping the "1" in place
thinking into the "2" etc.
using skeletal rhythms
using repetition
playing over the bar line
anchoring points
Playing Cymbals:
why certain cymbals are good for certain situations
different sticks for different sounds
building on the quarter note & the basic jazz ride pattern
breaking up the time
the in & out elbow method
direct & side strokes
double flat rides
making the hands talk to each other
moving your hands around the cymbal for different shades
dynamics within the phrase
the "Drone"
the "Gush"
the dead stroke (with extended forefinger)
when to and when not to change cymbals
crashing on the "1" & other options
Playing Brushes:
thinking in terms of grace and beauty
different strokes - different tempos
what part of the brush for light or heavy playing
the left hand (how it moves in rhythm and when not to move it)
evenness of double strokes
my side swish
unique strokes
Making Music:
your part in the overall picture
knowing the song's form
composing a part
telling a story
the drums as a translator of your ideas
disappearing into the music
when to lead and when to follow
playing the music vs. playing the style
taking chances
Developing A Fluid Sound:
always shape your phrases, using dynamics, etc.
don't crash on the "1" to much, so that your playing doesn't sound too compartmentalized
"hear" yourself as part of the overall music, instead of listening to yourself "on top of" the music
don't get too ahead of the bass player, since the drums and bass should ground the music
make the groove as "wide" as possible by really "playing" each note, don't pull your punches
find the right stroke length for each tempo
shape your sound by sculpting your sound using different strokes
be aware of the end of each note, as well as the beginning
treat silence as an equal partner by not feeling like you always have to play something
give rests their full value
get in and out of the music gracefully
relax your shoulders and arms (and legs) so that they're able to move around more freely
get into "the dance" of the tempo and music
think and visualize sounding like a waterfall, where all sounds naturally fall into place, nothing is forced
Soloing:
determining the purpose of the solo
freeform vs. playing off the melody
earthy vs. technical vs. flashy vs. the wildman
playing & developing an idea
using a "clave" pattern
theme & development
using repetition and tension & release
utilizing dynamics
utilizing space
using all parts of the kit and the head
using humor
utilizing different sounds and instruments
using mathematics when trading 4s, 8s, etc.
Your Goals:
why do we play
what do we want out of this
your level of commitment
know yourself
reality vs. dreams
being ready when opportunity calls
jack of all trades vs. mastering one trade
your reading ability
your memory & comprehension level
live vs. studio
your private life
branching out (producing, programming, engineering, etc.)
business smarts
Developing a personality on your instrument:
being true to yourself
wild vs. reserved
your reflexes and your body mass
you are what you listen to
you are what you can & can't play
being able to keep your personality in different circumstances
imitating vs. interpreting your favorite players' styles
how you look when you play
Choosing Equipment:
having the right sound for the job
drums, cymbals, heads, sticks, etc.